Created by Elise Pulbrook (@elise_foodperson)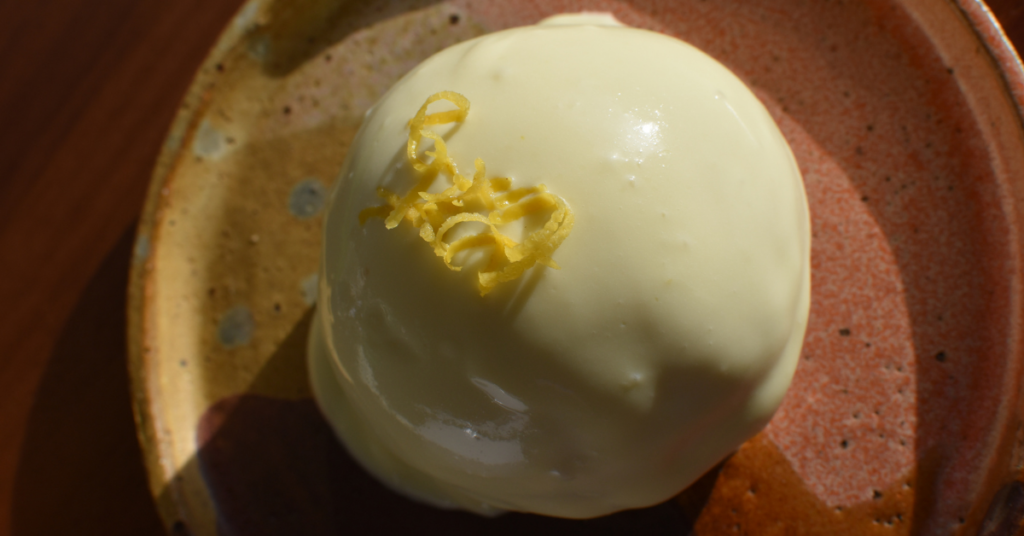 This is a classic Italian dessert you would find during travels along the Amalfi Coast. I first ate it at a conference at the University of Gastronomic Sciences in Pollenzo, near Bra, in the northern region of Piedmont.
The dinner was put on to celebrate regional Italian cuisine and to educate eaters about the distinctive varieties of ingredients that typify various regions of Italy. The chef who had prepared the dessert had brought crates of Amalfi lemons to showcase the most prized fruit of the Amalfi coast.
Amalfi lemons are more than just simple fruit: they are one of the world's most delicious lemons, prized for their powerful citrus perfume and distinctive sweet flavour.
To make Limone al Delizie, you will need the best butter, milk, cream and eggs to really feature the best lemons you can find (preferably home grown and unwaxed). This is a fragrant, boozy and airy dessert that is worth every effort involved.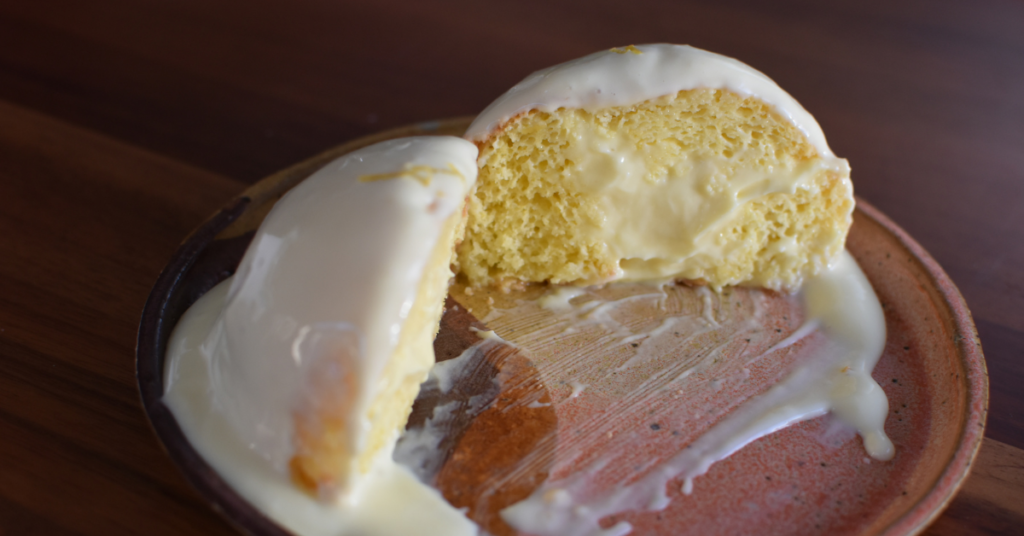 Lemon Sponge 
Ingredients:
200g egg whites (from approximately 5 large free range eggs)
95g egg yolks (from the above 5 eggs)
1/4 tsp salt
160g caster sugar
130g self raising flour
Zest of 1 lemon
1tsp vanilla paste or extract
Method:
1. Begin by preheating your oven to 170°C. 
2. Prepare your baking vessel of choice by either lining a 30cm x 24cm baking tray with baking paper, filling a 12 hole muffin tin tray with patty pans or by lightly greasing and dusting with flour a 8cm x 4cm half sphere silicone mould tray. The quantities specified for this sponge will allow you to fill a tray of half sphere silicone moulds and a baking tray. 
While a half sphere silicone mould tray will result in sponges of a traditional Limone al Delizie shape and size, this is non essential. You can make a gorgeous dessert with whatever baking vessel you have at your disposal. A sheet of sponge will allow you to make layered plated desserts or tiramisu-esque glass fulls of Limone al Delizie. The patty pan option will allow for sponges that almost resemble an original style of this dessert. 
3. Melt the butter with the milk before adding the vanilla and lemon zest. Set this aside. 
4. To make the sponge, add the egg whites and salt to the bowl of an electric stand mixer and whisk until firm peaks are achieved. Slowly add the sugar and, once the egg whites resemble glossy firm peaks, turn the speed down and add the yolks one at a time until just combined. Try to avoid over beating the mixer once the yolks are added and stop your mixer once the yolks have only just mixed in. 
5. Gently fold in the flour, adding a third of the flour at a time. 
6. Pour the milky buttery mixture along the edges of the bowl and then gently fold it in, making large figure 8 motions with your spatula. 
7. Working quickly, pour your sponge mixture into your baking vessels of choice and bake for approximately 12 -15 minutes, or until beginning to brown on top and a skewer can be cleanly removed. Try to avoid opening your oven mid-bake. Remove from oven and set aside to cool. Remove your sponges from their trays once warm to touch and set on a cooling rack. 
Lemon Curd 
Ingredients:
150g caster sugar
150g egg yolks (from approximately 8 eggs)
130g lemon juice
Zest of 3 lemons
150g butter, melted if following the microwave method or cubed if following a stovetop method
1/4 tsp salt
1/4 tsp citric acid, optional

Method:
1. To make a microwave lemon curd, add all ingredients to a microwave safe bowl and whisk. Microwave for 30 seconds at a time, whisking in between every interval. By the time your curd has had 3 minutes of microwave time with interrupted whisking, it will just start to thicken. Sieve, cover with clingfilm and refrigerate until cool. 
2. To make a stovetop lemon curd, prepare a double boiler by setting a glass heatproof bowl over a pot of boiling water. Ensure the base of your bowl does not touch the bubbling water. Except for your butter, add all ingredients and whisk until lightened in colour and thick. This will take about 10 minutes. Remove the bowl from the heat and gradually whisk in the cold cubes of butter. Sieve, cover with clingfilm and set aside in the fridge. 
Limoncello syrup
Ingredients:
100g water
100g sugar
140g limoncello
Peel of 1 lemon (no pith)
60g lemon juice, freshly squeezed

Method:
To make the limoncello syrup, add peel, water and sugar to a small saucepan and bring to a boil. Turn off the heat and allow to cool. Add remaining ingredients. 
Lemon pastry custard
Ingredients:
Peel of 1 lemon
1 egg
60g caster sugar
35g cornflour
1/4 tsp salt
10g vanilla bean paste

Method:
1. Heat your milk, cream, sugar, vanilla and peel, bringing the mixture to a simmer (do not boil). Please note that if you boil your milk it will scald. Turn the heat off and set aside to steep. If a skin forms, sieve mixture into a clean saucepan before proceeding with step 2. 
2. Whisk the egg and cornflour until thoroughly combined and free from any lumps. Bring your milk back to a simmer. 
3. Slowly drizzle a cup full of flavoured warm milk into the egg mixture, tempering the egg. Pour this into the pot and stir your custard until it just begins to bubble and thicken. If you have a thermometer to check your custard with, it will be ready at 82°C. 
4. Sieve the custard into a dish, cover with clingfilm and refrigerate until cooled. 
Lemon glaze 
Ingredients:
100g lemon curd (add more for a sharper lemon flavour)
100g pastry cream
Method:
Whisk all ingredients into an anglaise consistency, adding additional milk if necessary. Adjust flavouring by adding more or less lemon curd to suit your taste preference if desired.  
Assembly:
Ingredients:
50g whipped cream
Sponges, as prepared above
Remaining lemon curd, as prepared above
Limoncello syrup, as prepared above
Remaining lemon pastry custard, as prepared above
Lemon glaze, as prepared above
Zest of 1 lemon to decorate with

Method:
1. Fold together the curd, custard and whipped cream. Transfer to piping bag.
2. If you are assembling little muffin sized sponges or little domes, make a hole in their base and try to fill as much as possible by inserting the piping bag and squeezing. You will feel the weight of the sponge increase. Invert each sponge onto a plate before pricking with a pin and generously soaking with limoncello syrup. Blanket glaze all over the top of your Limone Delizia.
Eat your first assembled sponge straight away if you want to test whether you're happy with the amount of soaking and filling. Be generous! 
3. If you're making a layered dessert from a sponge baked in a sheet tray, layer a piece of sponge, then soak, spoon over custard and repeat until you finish with some glaze on top. 
4. Refrigerate for a couple hours before eating. Decorate with curled lemon zest and whipped cream, if further dairy is desired!! 
Homemade limoncello recipe:
If you have an overflowing lemon tree, you need to try making your own limoncello! 
Ingredients:
1 litre vodka
10 homegrown lemons, peeled (no pith)
750g caster sugar
700ml water 
Method:
Add lemon peels to a large jar or two large jars, distributing the peels evenly. Pour over vodka and leave for a week to steep until brightly coloured and fragrant.
Make a sugar syrup by bringing the sugar and water to a boil, stir to assist the sugar to dissolve. Set aside to cool.
When the sugar syrup has cooled, add this to the vodka and lemon mixture. Set aside for a further week, shaking the jars regularly.
Strain into bottles and enjoy!
To stock up on the best Australian dairy products for this delicious and enticing recipe, find your nearest St David Dairy retailer here!